Most of us are guilty of shoving cash in our pant's pockets, purses or jackets and then totally forgetting about it. Then, one day we put on a pair of jeans we have not wore in a while and "voila" – 20 bucks we forgot about. NICE! Finding money unexpectedly, regardless of the amount, is one of life's simple pleasures.
This year we learned of another way you could find more of your lost money, and it may surprise you! Each year the Government of Canada issues payments to Canadians in the form of refunds, credits, or benefits. Believe it or not, some of these payments have gone uncashed by Canadians! Some may have been lost, stolen or in some other way just have never made it to you. In fact, according to the Government of Canada's website:
"As of May 2019, approximately 5 million Canadians had an estimated 7.6 million uncashed cheques with the Canada Revenue Agency (CRA), dating back to 1998."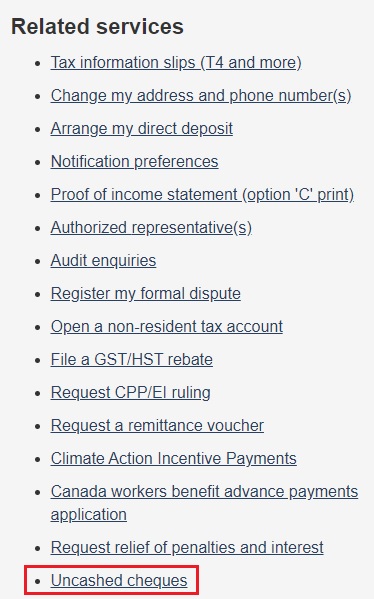 Are you one of those Canadians with an unclaimed refund? Find out today by checking out the new "Uncashed Cheque" feature that the Government of Canada introduced in February 2020. To search for your "lost treasure", you will need to open "My Account for Individuals" with CRA. CRA has excellent on-line guidance on how to set up your personal account. If you do have an uncashed cheque waiting for you, you are allowed to request a reissued payment from My Account. From My Account, you will find the option to apply in the right menu bar (see example).
Going forward, here are a couple easy ways to ensure you never miss a refund:
Our best wishes as you search and perhaps find all that is yours!